This post may contain affiliate links. Please read our disclosure policy.
Delicious, Mexican-inspired huevos rancheros with a sweet potato hash. Perfectly cooked, runny, sunny-side-up eggs on top of a bed of sweet potatoes, pico-style salsa, and fresh, crispy corn tortillas. These Mexican eggs make for the perfect breakfast or brunch!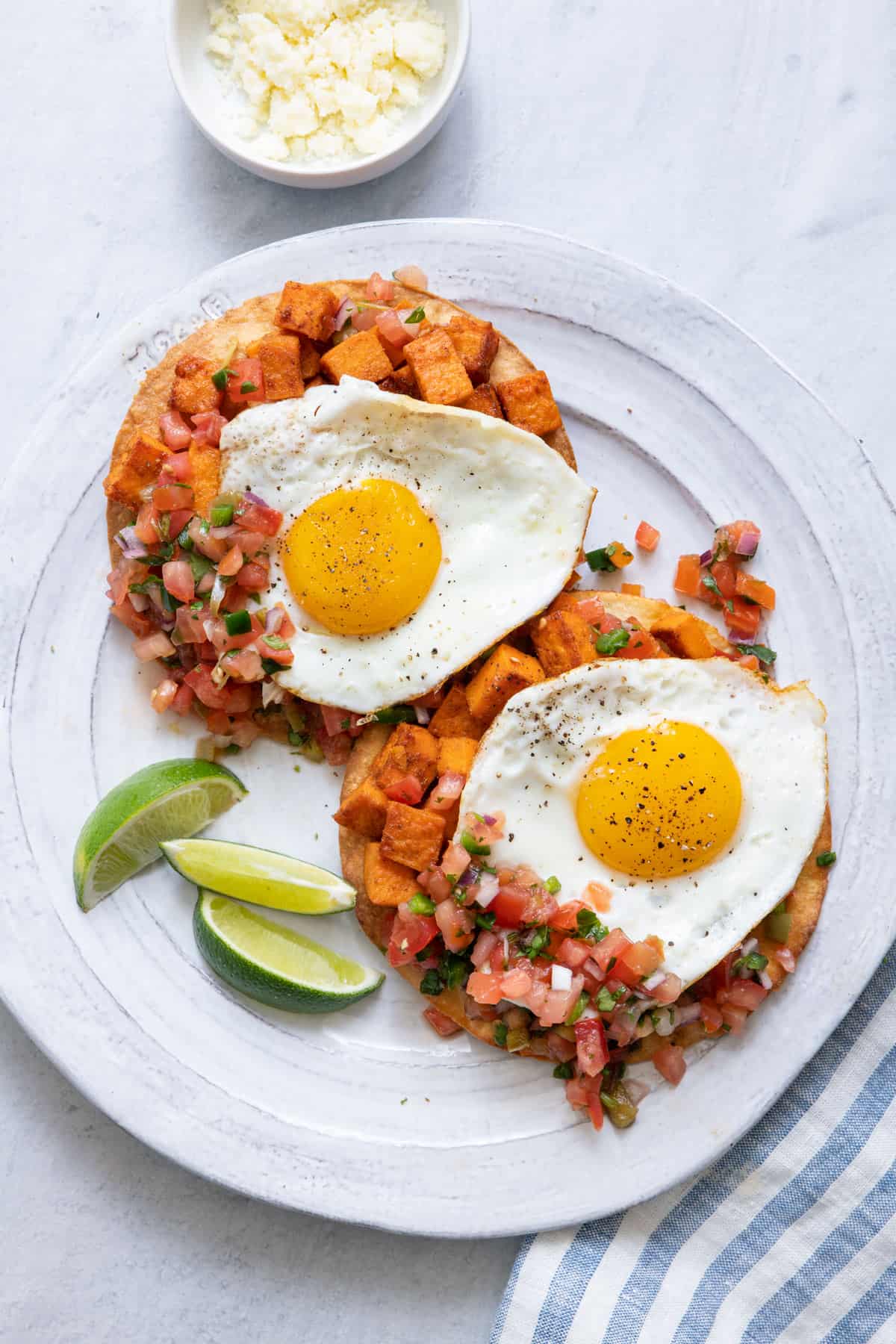 Huevos rancheros is a quintessential Mexican breakfast dish. It typically consists of eggs (usually fried or sunny-side-up), a salsa or sauce, and tortillas. This recipe, while slightly veering off the traditional path, still captures all the flavors of classic huevos rancheros. The egg yolk acts as a delicious and rich sauce, coating the sweet potatoes and tortillas in all its glory.
why you'll love this Mexican Egg Recipe
Bright flavors. The combination of fresh salsa, cilantro, and lime juice gives these huevos rancheros a beautiful brightness that is perfect for breakfast.
A little bit of everything. I love a good, well-rounded meal, and this recipe fits the bill. Plus, it's always nice to have a variety of textures and flavors in each bite.
Easily customizable. If you're not a fan of sweet potatoes, you can easily swap them out for regular potatoes or even black beans. And if you're not into runny yolks, feel free to cook your eggs to your desired doneness.
Something different. Breakfast can feel a little flat sometimes. If you're looking to mix things up and try something new, these huevos rancheros are definitely it!
Ingredients to make huevos rancheros
Eggs: You can't have huevos rancheros without eggs! I like to use large eggs for this recipe, but feel free to use whatever size you have on hand.
Sweet Potatoes: I love using sweet potatoes in this dish because they add a lovely sweetness and depth of flavor. However, if you're not a fan of sweet potatoes, you can easily swap them out for regular potatoes.
Corn Tortillas: You can use either fresh or store-bought corn tortillas for this recipe. I use store-bought because they're more convenient, but fresh tortillas will definitely make this dish even better.
Pico de Gallo: Pico de gallo is a fresh salsa made with tomatoes, onions, cilantro, jalapeno, and lime juice. You can find it in the produce section of most grocery stores, or you can easily make it yourself.
Spices: Cumin, garlic powder, and chili powder add the perfect amount of flavor to this dish.
How to make Huevos Rancheros
In a small bowl, stir together the tomato, red onion, jalapeno, cilantro, lime juice, and salt. Set aside.
Heat a large skillet. Add sweet potatoes, salt, chili powder, garlic powder, and cumin. Toss sweet potatoes to evenly coat in the oil and seasoning.
Heat the avocado oil in a pan. Add two tortillas and cook until browned and starting to bubble on both sides.
Crack the eggs into the pan and season with salt to taste. Cook until whites are set, and yolks are cooked as desired.
Tips for making huevos rancheros
Finely dice the sweet potatoes. That allows them to cook faster and more evenly in a skillet on the stovetop. It's also easier to add on top of the tortilla when they're smaller.
Cook the egg whites evenly. The trickiest part of cooking a sunny-side-up egg is making sure the thickest part of the egg white (closest to the yolk) gets cooked. A trick to ensure that it cooks evenly with the rest of the egg is to poke the egg white all over with a fork right after you crack it into the pan. This helps break up the egg white proteins, so they distribute more evenly—and cook evenly as well!
Choose your spice level. Neither the sweet potatoes nor the fresh salsa here is really spicy, but if you want to up the heat level, you could add more jalapeno or leave the seeds in when you make the salsa. You could also add another ¼ teaspoon of chili powder to the sweet potatoes, if you wanted.
Get your tortillas crispy. I like to heat my tortillas in a skillet over medium-high heat until they're nice and crisp. This step is optional, but I think it really makes the dish!
popular substitutions & additions
Make it with black beans. Traditionally, huevos rancheros are made with black beans and not sweet potatoes.
Add cotija cheese. Cotija cheese is a Mexican cheese that would be delicious sprinkled on top of these huevos rancheros.
Make it with beef chorizo. Chorizo is a spicy sausage that would be delicious in this dish. You could add it to the sweet potatoes as they're cooking, or cook it separately and add it on top of the huevos rancheros.
Add toppings. Toppings make everything fun! Some of my favorites are sour cream, avocado, cilantro, and lime.
what to serve with your mexican eggs with tortillas
how to store & reheat huevos rancheros potatoes
These Mexican eggs are best enjoyed fresh, but if you have leftovers, they will keep in the fridge in an airtight container. To reheat, simply heat in a skillet over medium heat until warmed through. You can also reheat them in the microwave, but be careful not to overcook the eggs.
how long will huevos rancheros last in the fridge?
If stored properly, these huevos rancheros will last in the fridge for up to four days.
Frequently asked questions
What does huevos rancheros means?
Huevos rancheros literally means "eggs ranch-style." It's a popular Mexican dish that typically features a sunny-side-up egg on top of a corn tortilla, with beans, salsa, and avocado.
What can I use for a sauce?
If you want a sauce for your huevos rancheros, I would recommend a homemade enchilada sauce, a store-bought salsa or simply hot sauce.
Can I make this dish ahead of time?
I would not recommend making the entire dish ahead of time, as the eggs will not be as good. However, you can chop the sweet potatoes and make the salsa ahead of time.
This recipe is perfect for breakfast or brunch, but can easily be made into a hearty dinner by adding some grilled chicken or steak. So whether you're looking for an easy weekday breakfast or want to impress your friends and family with a beautiful and flavorful meal, look no further than these huevos rancheros with sweet potatoes!
More Mexican inspired recipes:
If you try this feel good Huevos Rancheros recipe or any other recipe on Feel Good Foodie, then don't forget to rate the recipe and leave a comment below! It helps others who are thinking of making the recipe. We would love to hear about your experience making it. And if you snapped some shots, share it on Instagram so we can repost on Stories!
This Huevos Rancheros recipe was originally published on May 2, 2017. The recipe has been slightly modified and the post now includes new step-by-step photos for how to make the recipe.
In a small bowl, stir together the tomato, red onion, jalapeno, cilantro, lime juice, and ¼ teaspoon salt. Set aside.

Heat 2 tablespoons oil in a large skillet over medium heat. When the oil is almost smoking, add sweet potatoes, ½ teaspoon salt, chili powder, garlic powder and cumin. Toss sweet potatoes to evenly coat in the oil and seasoning, then spread into a single layer and cook, undisturbed, until browned and crisp on the bottom.

Flip potatoes and continue to cook until crispy all around, about 10-12 minutes in total. Remove the sweet potatoes from the pan and keep warm. Wipe out the pan.

Heat 1 teaspoon oil in the pan over medium high heat. Add two tortillas and cook until browned and starting to bubble on both sides, 3-5 minutes. Remove to a small plate and keep warm, then repeat with another teaspoon oil and the remaining tortillas.

Heat the remaining tablespoon oil in the pan over medium heat. Crack the eggs into the pan and season with salt to taste. Cook until whites are set and yolks are cooked as desired (about 3-4 minutes for a runny yolk). Remove the eggs from the pan.

To serve, spoon ⅓ cup of the sweet potatoes on each tortilla and cover with a fried egg. Top with the fresh tomato salsa.
Tip: These huevos rancheros are best served hot and fresh. To get the best flavor make with a runny sunny-side-up egg or over-easy egg. 
Calories: 592kcal, Carbohydrates: 52g, Protein: 17g, Fat: 36g, Saturated Fat: 6g, Polyunsaturated Fat: 6g, Monounsaturated Fat: 22g, Trans Fat: 1g, Cholesterol: 327mg, Sodium: 1386mg, Potassium: 802mg, Fiber: 8g, Sugar: 8g, Vitamin A: 17208IU, Vitamin C: 17mg, Calcium: 141mg, Iron: 3mg
Nutrition information provided is an estimate. It will vary based on cooking method and specific ingredients used.